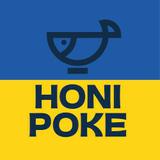 Riding the waves of the Poké phenomenon that has swept all the way from Hawaii to New York, Honi Poké is bringing the craze to London.
Filling the niche between salad bars and more calorific options, the protein-filled poké bowls are light, healthy and full of flavours. The ability to customise each dish plays well to the variety of taste buds in the capital.
Freshest fish and delicious vegan options are given a fancy makeover with carefully concocted sauces and garnishes, to create a truly premium tasting dish.
Contact
Information
Opening Hours
Monday 11:00 - 22:30
Tuesday 11:00 - 22:30
Wednesday 11:00 - 22:30
Thursday 11:00 - 22:30
Friday 11:00 - 22:30
Saturday 11:00 - 22:30
Sunday 11:00 - 22:30
Address
74 Battersea Rise, Wandsworth, London, SW11 1EH, United Kingdom