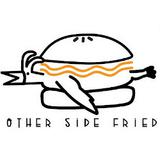 It all started back in 2014 when Tommy asked Matt to start a Fried Chicken Business over a pint in Brixton, having spent the past few years working together as chefs.
Three months later, after hours of looking for the perfect catering van, we found an old British ambulance and spent the next couple of weeks using any spare time we had to convert it into a working catering van.
Other Side Fried focuses on selling its signature fried chicken burgers and sides in a fast, fun and friendly environment.
'DIRTY DONE PROPER' as we like to call it.
Contact
Information
Opening Hours
Monday ‍12:00-22:30
Tuesday ‍12:00-22:30
Wednesday ‍12:00-22:30
Thursday ‍12:00-22:30
Friday ‍12:00-23:00
Saturday ‍12:00-23:00
Sunday ‍12:00-22:30
Address
97 St. John's Road, Wandsworth, London, SW11 1QY, United Kingdom