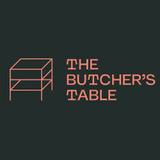 At the Butcher's Table we know that the centre of any home and all great occasions is the dinner table. Whether it's a dinner party with friends or a Sunday roast with family; quality meat, good company great wine, it's our idea of bliss.
That's why we'll bring to you high quality, high welfare meat, our favourite wines and beers and some delicious deli items. You can then serve these on your own table, and should you need it, we'll offer our advice on how to get the most out of our produce.
We will also have great evenings around our butchers table, offering bespoke butchery classes and BBQ courses. For those that love their food and want to expand on their meat knowledge or cook over fire, this is the space for you.
Contact
Information
Opening Hours
Monday closed
Tuesday 10:00-18:00
Wednesday 10:00-18:00
Thursday 10:00-19:00
Friday 10:00-19:00
Saturday 10:00-17:00
Sunday closed
Address
78 St John's Hill, SW11 1SF